This teenage novelist is $1,400 out of pocket to self-publisher — but still doesn't have a book
cbc.ca – Saturday September 23, 2023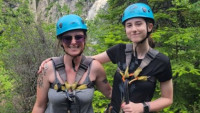 After spending about $1,400 through a U.S.-based self-publishing company and no books to show for it, a mother and daughter from Gander are cautioning people before taking the self-publishing route.
Lindsay Whiteway, 14, said it was a dream to have her book — which she compared to American author Rick Riordan's Percy Jackson & the Olympians series — published.
"I kind of wanted to publish them and get them out. Because it's just all the stories I built up in my mind…. I need other people to read it, you know," she told CBC News.
While looking for publishers online, Lindsay's mother, Jessica Pritchett, came across Premium Book Publishing, which is based in Florida.
To read the full article on cbc.ca, click here