Reilly appointed literary agent at Colwill & Peddle
thebookseller.com – Wednesday September 20, 2023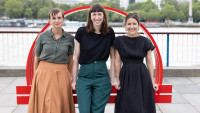 Milly Reilly has joined Colwill & Peddle as a literary agent. She brings with her a list of non-fiction and literary fiction authors, including Dr Annabel Sowemimo, Gabrielle de la Puente and Zarina Muhammad, among others.
Reilly started her career at First Story before joining Jo Unwin Literary Agency in 2017, originally as Unwin's assistant. She said: "Kay and Charlotte are phenomenal agents. Their transparent and collaborative ethos is a force for good in the industry, and I'm delighted to be joining their agency.
"I am so grateful to Jo and the wider team – Rachel, Donna and Daisy – for my time at JULA, and all that I've learnt at the company. It has been a joy and privilege to work with such intelligent and inspiring colleagues, and I will miss them very much."
To read the full article on thebookseller.com, click here