New edition of award-winning mystery writing guide
firstwriter.com – Wednesday July 18, 2018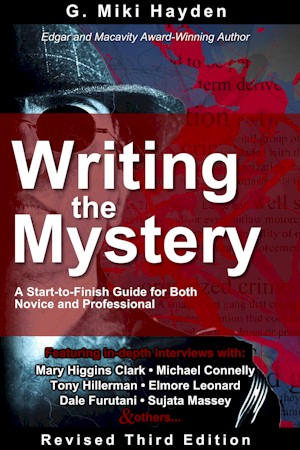 A new, revised edition of G. Miki Hayden's award-winning guide for mystery writers has just been released, and is now available to buy both in print and as an ebook.
G. Miki Hayden is a long-time member and former board member of Mystery Writers of America, and regularly teaches a mystery writing workshop (and other courses) at Writer's Digest online university. This third edition of her book, Writing the Mystery: A Start-to-Finish Guide for Both Novice and Professional, provides invaluable step-by-step advice on shaping plots, developing characters, and creating a fast-paced and compelling mystery for the modern market. It includes practical exercises, guidance on how to approach agents and publishers and get your novel to market, and a whole new section on the self-publishing phenomenon that has exploded since the publication of the first edition.
Hayden also offers tips and advice from some of the biggest names in modern mystery, through interviews with such renowned authors as Mary Higgins Clark, Tony Hillerman, Rick Riordan, and others.
Writing the Mystery has been nominated for an Agatha Award and an Anthony Award, and is a winner of the Macavity Award for Best Nonfiction.
"It's important for any author to make an investment in themselves by buying books on writing. For the aspiring mystery author, Hayden's book is the logical first investment because it introduces you to the full scope of the mystery world."
~ Dale Furutani, LA Times Bestseller
For more details, or to purchase your copy of the new third edition, go to https://www.jpandadyson.com/books/writing_the_mystery.php