National Writing Day launches 24-word challenge
entertainment-focus.com – Sunday June 14, 2020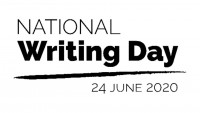 First Story, the charity behind National Writing Day, has launched a 24-word story challenge to mark the annual nationwide celebration of the pleasure and power of writing and words. This year it will take place on 24th June. Together with its National Writing Day partners, a coalition of leading literacy organisations and publishers and a host of the nation's much loved children's authors including Children's Laureate Cressida Cowell, Malorie Blackman and Frank Cottrell Boyce, First Story is challenging everyone – especially young people – to come together to share their experiences.
With a nation in lockdown, and the extreme experiences of the past few months keenly felt, the power of words to give voice to our stories is timely. Many pupils and students are still home-learning; and schools are closed to most of their cohorts.
National Writing Day is leading the charge with a simple writing call to action: a challenge to everyone to write just 24 words, in 7 minutes, starting with the prompt 'One day…' and to share their work on social media using the hashtag #247challenge. The challenge involves everyone, and participants can enjoy writing together and take a moment to express themselves.
To read the full article on entertainment-focus.com, click here
Recent News