Literary Cleveland's 2021 Inkubator Writing Conference features nationally recognized writers, interactive workshops
news5cleveland.com – Wednesday July 7, 2021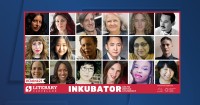 CLEVELAND — Literary Cleveland's annual Inkubator Writing Conference is back this summer with more than 30 free events for writers and readers.
The virtual conference taking place from July 11 through July 25 will offer a wide range of interactive classes, craft talks, open mics and panel discussions.
Attendees will hear from nationally recognized writers including Viet Thanh Nguyen and Thrity Umrigar, along with a panel of New Yorker writers originally from Cleveland: Andy Borowitz, Mary Norris and Kathryn Schulz.
An all-star lineup of local authors will lead panels on writing in prisons, solutions journalism, ethical representation in literature, how storytelling can affect social change and writing about illness beyond the pandemic.
To read the full article on news5cleveland.com, click here
Recent News