Harry Potter publisher Bloomsbury reports record sales amid reading boom
theguardian.com – Wednesday June 15, 2022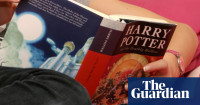 Bloomsbury has reported a record year for sales, as the Harry Potter publisher said the increase in reading during the pandemic had become "permanent" after lockdowns eased.
The company benefited substantially from Covid restrictions when homebound consumers turned to new hobbies, including reading, to pass the time.
Bloomsbury's chief executive, Nigel Newton, said it was clear that people who picked up a reading habit during the pandemic were continuing to buy books, helping to push annual sales up 24% to record highs of £230m for the year to the end of February.
To read the full article on theguardian.com, click here