Author coalition blasts publishers in legal fight with Internet Archive
reuters.com – Saturday October 1, 2022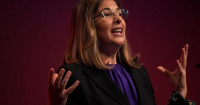 A group of more than 300 authors including Neil Gaiman and Naomi Klein issued a letter Thursday criticizing lawsuits from major publishing companies over the lending of digital books.
The authors said in the open letter, organized by digital-rights advocacy group Fight for the Future, that publishers and their trade groups are "undermining the traditional rights of libraries to own and preserve books, intimidating libraries with lawsuits, and smearing librarians."
The letter said the authors were "disheartened by the recent attacks against libraries being made in our name."
To read the full article on reuters.com, click here