Audio royalties come under scrutiny as sales of audiobooks continue to soar
thebookseller.com – Saturday June 26, 2021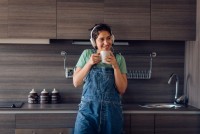 Debate is raging in the publishing industry over whether authors are benefiting fairly from the audio and e-book boom, with concerns over the "Spotification" of books, as sales soared even further in lockdown.
Agents are urging for a greater share of royalties for authors beyond the standard 25% from these formats, while publishers argue writers do receive their fair share.
According to the Publishers Association's recent Publishing in 2020 report, audio downloads have soared by a third to a value of £133m (+37%), while consumer digital sales rose by almost a quarter to £418m (24%), of which £267m is domestic (+29%), across invoiced sales. Over the past five years, audio downloads have risen by 241% overall.
However, almost every agent who spoke to The Bookseller revealed concern for how authors are getting the "thin slice of the digital pie". Caroline Michel, c.e.o. of PFD, believes the situation is too rigid. "Publishers very quickly made [e-books and audio] part of the volume rights to a book, but have stuck religiously to 25% of net receipts as a royalty. You get movement on backlist books... but when it comes to frontlist titles, it is pretty set. I know that publishers for certain authors—you know, the huge sellers—can get some movement, but for most authors it is set and publishers seem to treat it as a nice add-on rather than actually a pretty established format.
To read the full article on thebookseller.com, click here
Recent News