Andlyn founder Andrew-Lynch joins Curtis Brown
thebookseller.com – Thursday February 23, 2023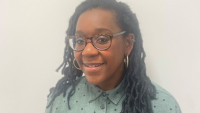 Davinia Andrew-Lynch, the founder of boutique agency Andlyn, has joined Curtis Brown.
Andrew-Lynch ran Andlyn for seven years, representing mainly children's content and adult commercial fiction across all genres. Among her clients are Annabelle Sami, Malcolm Duffy, Bex Hogan, Faye Brann and Adam Douglas-Bagley.
Prior to this, she worked as a film and TV agent and freelance editor. She also helped to co-create the FAB Prize alongside Faber Children's. The prize aims to discover Black and minority ethnic authors and illustrators.
As she joins Curtis Brown, Andrew-Lynch is looking to grow a list of commercial adult fiction alongside her existing list in children's and YA. She will be based in London, joining the Curtis Brown team at their new offices on Regent Street.
To read the full article on thebookseller.com, click here