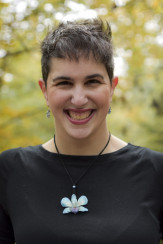 Rebecca Matte
Literary Agent
Last updated: August 6, 2023
Literary Agency
Categories
Adult
Fiction
Novels
Disabilities
Fantasy
Queer Romance
Romance
Romantasy
Science Fiction
Young Adult
Fiction
Novels
Disabilities
Fantasy
Queer Romance
Romance
Romantasy
Science Fiction
Description
Loves adult and YA science fiction/fantasy and queer romance. But no matter the setting—be it a far off kingdom beset by magic or around the corner in Brooklyn—she seeks out books that feature diverse, complex characters in deeply rooted relationships, platonic and romantic. A well-crafted romance will make her heart sing, while a beautifully detailed friendship will elevate any book to an instant favorite. She also gravitates towards inherently hopeful stories of self-discovery and reinvention at all ages, particularly those that center questions of gender and sexuality. She tries to bring magic to every moment of life, and loves books that do the same.

For the month of August 2023, only open to queries from BIPOC authors and queries of Fantasy Romance. Open to queries more generally from September 1, 2023.
Approaches
How to approach
Query Manager
User feedback
There is not yet any feedback for Rebecca Matte.
If you have had any contact with Rebecca Matte (or have any in future), remember to leave feedback – whether positive, negative, or neutral – to help other users.
Add
Note
Show
Notes
Hide
Notes
List
Notes
Notes