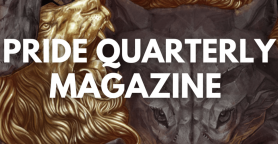 Pride Quarterly Magazine
Online Magazine
Last updated: April 23, 2023
Categories
Fiction
Short Fiction
Crime
Fantasy
Historical Fiction
Horror
LGBTQIA
Mystery
Romance
Science Fiction
Suspense
Thrillers
Poetry
Any Poetic Form
General, and in particular
LGBTQIA
Description
A genre fiction magazine for QTBIPOC creators. Open to original and reprinted genre fiction year-round with periodic, unannounced closures. Particularly interested in romance, historical fiction, mystery and crime, thriller and suspense, horror, science fiction, and fantasy. All submissions should be aimed at a general adult audience. Aims for a story a month, published behind a paywall on the 15th. Each quarter, these stories are bundled into an issue. Each year, they're collected into an anthology.
Offers
$0.08/word for the first 1,000 words and $0.01/word after for original fiction. $0.01/word for reprints. $15 for poems.
Approaches
How to approach
Online submission system
User feedback
There is not yet any feedback for Pride Quarterly Magazine.
If you have had any contact with Pride Quarterly Magazine (or have any in future), remember to leave feedback – whether positive, negative, or neutral – to help other users.
Notes for Pride Quarterly Magazine
Add
Note
Show
Notes
Hide
Notes
List
Notes
Notes