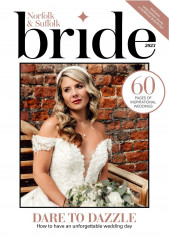 Norfolk & Suffolk Bride
Print Magazine
Last updated: January 25, 2023
Magazine Publisher
Categories
Nonfiction
Articles
Fashion
Norfolk
Suffolk
Weddings
Description
For engaged couples in the region. Filled with inspiration, information and advice, this annual publication is geared towards planning your wedding the local way. From fashion features and expert articles, to real weddings and venue listings,it makes easy work of your wedmin by providing everything you need to plan the perfect day. Glean ideas for your wedding in every aspect and connect with the local suppliers who can bring your vision to life.
Offers
Print magazine publication
User feedback
There is not yet any feedback for Norfolk & Suffolk Bride.
If you have had any contact with Norfolk & Suffolk Bride (or have any in future), remember to leave feedback – whether positive, negative, or neutral – to help other users.
Notes for Norfolk & Suffolk Bride
Add
Note
Show
Notes
Hide
Notes
List
Notes
Notes