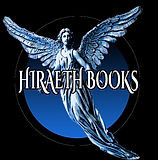 Hiraeth Books
Book Publisher / Ebook Publisher / Online Publisher
Last updated: August 26, 2022
Categories
Fiction
Chapbooks
Fantasy
Horror
Science Fiction
Speculative
Supernatural / Paranormal
Colouring Books
Fantasy
Horror
Science Fiction
Speculative
Supernatural / Paranormal
Novellas
Fantasy
Horror
Science Fiction
Speculative
Supernatural / Paranormal
Novels
Fantasy
Horror
Science Fiction
Speculative
Supernatural / Paranormal
Short Fiction Collections
Fantasy
Horror
Science Fiction
Speculative
Supernatural / Paranormal
Short Fiction
Fantasy
Horror
Science Fiction
Speculative
Supernatural / Paranormal
Poetry
Poetry Collections
Fantasy
Horror
Science Fiction
Speculative
Supernatural / Paranormal
Description
We publish what we consider the very best in speculative fiction: science fiction, fantasy, horror, paranormal, anything out of the ordinary. We welcome new and established authors and artists equally, as talent is often found in out-of-the-way places. We are a family friendly company, but we don't shy away from strong language or tough situations if the story or artwork calls for it.

We publish novels, novellas, chapbooks, coloring books, anthologies, collections, even short stories online in the effort to showcase the many talented writers and artists how have entrusted us with their creations. We do our best to present their work in an attractive package that will gain the most attention and entertain the most readers.
Approaches
How to approach
Email attachment
What to send
Synopsis
Writing sample
Online
Online Magazine / Print Magazine
User feedback
There is not yet any feedback for Hiraeth Books.
If you have had any contact with Hiraeth Books (or have any in future), remember to leave feedback – whether positive, negative, or neutral – to help other users.
Add
Note
Show
Notes
Hide
Notes
List
Notes
Notes