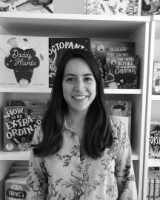 Chloe Davis
Assistant Agent
Last updated: November 11, 2020
Literary Agency
Literary Agent
Categories
Children's
Fiction
Middle Grade
Adventure
Young Adult
Fiction
Novels
Contemporary Romance
Description
Particularly enjoys reading submissions, especially middle grade adventures and contemporary YA love stories.
User feedback
There is not yet any feedback for Chloe Davis.
If you have had any contact with Chloe Davis (or have any in future), remember to leave feedback – whether positive, negative, or neutral – to help other users.
Add
Note
Show
Notes
Hide
Notes
List
Notes
Notes