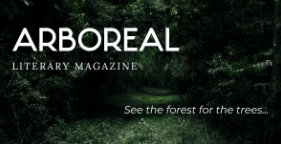 Last updated: November 25, 2023
Description
Online magazine that came about when two friends sought to create something of value, something for pure enjoyment, something to encourage creativity.
Approaches
How to approach
Submittable
User feedback
There is not yet any feedback for Arboreal.
If you have had any contact with Arboreal (or have any in future), remember to leave feedback – whether positive, negative, or neutral – to help other users.
Add
Note
Show
Notes
Hide
Notes
List
Notes
Notes