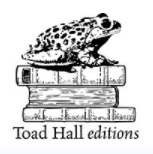 T
___

H

___

E

_______

Book Publisher / Self Publishing Service / Magazine Publisher
[ To view the full details you need to subscribe or log in ]
Last updated: March 16, 2023
Categories
Fiction
Novels
Short Fiction Collections
Nonfiction
Nonfiction Books
Creative Nonfiction
Memoir
Personal Essays
Fiction
Novels
Fantasy
Historical Fiction
Horror
Mystery
Romance
Science Fiction
Thrillers
Nonfiction
Nonfiction Books
Finance
Motivational Self-Help
Description
Small press publisher that also provides self-publishing services. Publishes 1-3 per year, written by women or gender-diverse people.
Costs
Offers services that writers have to pay for
Approaches
How to approach
Email
What to send
Query
Synopsis
Author bio
Pitch
Don't approach by
Email attachment
Contact
User feedback
There is not yet any feedback for T___ H___ E_______.
If you have had any contact with T___ H___ E_______ (or have any in future), remember to leave feedback – whether positive, negative, or neutral – to help other users.
Notes for T___ H___ E_______
Add
Note
Show
Notes
Hide
Notes
List
Notes
Notes