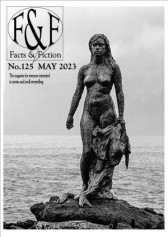 F
____

& F

______

Magazine
Established: 1989
[ To view the full details you need to subscribe or log in ]
Last updated: May 25, 2023
Categories
Nonfiction
Articles
Storytelling
Interviews
Storytelling
News
Storytelling
Reviews
Storytelling
Description
The magazine for everyone interested in (oral) storytelling. Not a short story or poetry mag. We deal with storytelling as an oral art form, in many ways as a traditional art form - so articles and other material should reflect that.
Offers
Print magazine publication
Editor
User feedback
There is not yet any feedback for F____ & F______.
If you have had any contact with F____ & F______ (or have any in future), remember to leave feedback – whether positive, negative, or neutral – to help other users.
Notes for F____ & F______
Add
Note
Show
Notes
Hide
Notes
List
Notes
Notes