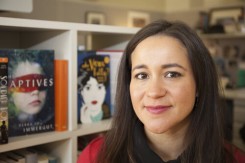 S
______

B

_________

R

______

Literary Agent / Vice President
[ To view the full details you need to subscribe or log in ]
Last updated: July 8, 2022
Literary Agency
Professional Body
Categories
Adult
Fiction
Novels
Literary
Postcolonialism
Upmarket
Short Fiction Collections
Literary
Nonfiction
Essays
Personal Essays
Nonfiction Books
Crafts
Design
How To
Lifestyle
Memoir
Narrative Nonfiction
Prescriptive Nonfiction
Children's
Fiction
Middle Grade
Realistic
Young Adult
Fiction
Novels
Realistic
Description
Represents literary novels and collections, upmarket fiction, and non-fiction, both narrative and prescriptive. Though she is primarily seeking Adult genres, she also represents select, realistic middle-grade and YA. She is particularly, but not exclusively, interested in fiction that reflects on the post-colonial world, marginalized and liminal spaces, and narratives by people of color. In non-fiction, she is primarily looking for idea-driven or voice-forward memoirs, personal essay collections, and narrative non-fiction of all stripes. She also represents a curated list of practical and how-to books by makers across creative fields including design, craft, and lifestyle.
Approaches
How to approach
Query Manager
What to send
Query
Synopsis
Writing sample
Online
Contact
User feedback
There is not yet any feedback for S______ B_________ R______.
If you have had any contact with S______ B_________ R______ (or have any in future), remember to leave feedback – whether positive, negative, or neutral – to help other users.
Notes for S______ B_________ R______
Add
Note
Show
Notes
Hide
Notes
List
Notes
Notes