International Poetry Competition
Tenth poetry competition winners
The Tenth International Poetry Competition closed on November 1, 2011 (click here to enter the current competition). Deliberation over the final line-up of winners was long and hard, but by January 2012 the following successful entrants were announced:
Winner
Congratulations to Shelley Griffiths, from Sidmouth, Devon, who wins £500 for her poem "Estuary Mud".
Shelley Griffiths was born in Portsmouth, UK in 1969, but was soon moved to the Cotswolds where she spent the formative years of her childhood with her two siblings and a dog called Buffy. At the age of eight, she moved to London where she stayed until she graduated with an English and Drama degree from Kingston University in her early twenties. After teaching for a few years, Shelley turned her hand to painting, and achieved global success with her abstract impressionism, painting under the name LAURIE MAITLAND. Royalties from print sales enabled Shelley to return to her first love – that of writing, and to study for a Master's Degree in Creative Writing at Exeter University, Devon.
Shelley still lives in Devon, where she continues to paint, alongside writing poetry, screenplays and novels – the first of which, Hailstones in May by Laurie Maitland, is now available on Amazon. The second novel, The Ganesha Keystone, will publish on Amazon in March 2012.
Shelley hopes to earn just enough from her writing and painting to move to a house with a bigger garden so that she can have chickens which she plans to name Betty, Marjorie, Ethel and Mabel.
Estuary Mud
Candy cottages roll their handkerchief gardens
to the pebbled shore as a shrieking seagull punctuates the air. The estuary has become an expanse of puckered mud with the spring tide sucking the water out to sea.
In the distance a lone figure, like a Lowry stick man picks his way across the silted flats, collecting mussels that cling to each other in stringy clumps. He plucks the bearded clusters from the sludge and throws them into a plastic bucket.
A dribbling stream sprawls across the surface
forming delicate fingers like veins. My wellies are purple and yellow like tutti-fruity ice-cream.
Each step makes a squelchy kiss as the estuary bed sucks and spits. A step too close to the inlet and the mud pulls me in.
Down and down.
Like a lollipop I twist as the gloop sucks like a big wet tongue round my belly, and licking up at my chin as I squirm.
My only escape to lose a welly.
I walk home, my clothes the same colour as the earth that spared me this time. At the back door, my solitary welly stubbornly grips as if it knows this is the last time.
I peel away my jeans, my thighs cold and clammy,
mottled pink like corned beef.
I am reminded of the story of the children on holiday, digging. Plastic spades spewing up sand.
Down and down.
I can see their mother, sobbing and kissing the sandy forehead of the girl they pulled out alive. And holding the cold clammy body of the boy they pulled out dead.
US runner-up
Congratulations to Jessica Prather, of Hilliard, Ohio, who wins $150 for submitting the best runner-up entry from the United States with the poem "Mortar".
Mortar
I want to live in a bowl of earth
sizzling cuddled on an iron skillet
baking bright
and underneath
an unfurled horizon
a paddock of broken meteor
to raise myself from the dead
in a womb of rock
baking bright
I would lift up my hands
and give root to stone
to be nothing more than
a grain
inside her arms
UK runner-up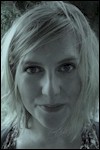 Congratulations to Alice Stride of Sheffield, South Yorkshire, who wins £100 for entering the best runner-up poem from the United Kingdom, "Walnuts and Apples".
Alice is 24 years old. She graduated from the University of Sheffield with a degree in English Literature and is currently the editor of the London Festival Fringe (www.londonfestivalfringe.com). She also writes for various other publications and websites, and writes her own creative work incessantly in her spare time. Her main ambition in life is to see someone on a train reading one of her books. She loves cheese, travelling, Mike Leigh films and people-watching – the greatest hobby in the world for an aspiring writer.
Walnuts and Apples
I dreamed of you last night.
It was misting dark and your skin was walnuts and apples
and when you held my hand it did not feel the same
I did not enjoy. Did not want to see you like that.
You said, "Death is not complete. It is just a
moment in time
existing
somewhere away from you"
Please tell me, then
when I stand, achingly, watch your marble house
pick the curling flowers; try to find a plant that will thrive
Why I still feel cheated?
Special commendations
Ten special commendations go out to the following entrants (in no particular order):
Pauline Asper, United Kingdom, "Maturity";
Christine Bond, United Kingdom, "Shamus Heaney. Queens University 1968s Heaney: Queens University 1968";
Richard Tyley, United Kingdom, "Home Sweet Home";
Joris Heise, United States, "Ashlie, the Student in Special Education";
Harvey Rothenstein, United States, "Our Example";
Kathleen Strafford, United Kingdom, "Under the Card Table";
Sarah Hosking, United Kingdom, "Armistice, November 11th";
Kate Brown, Australia, "102 degrees";
Ginna Wilkerson, United States, "Laws of Travel";
Tom Brown, United Kingdom, "Birds".
You can enter the current competition by clicking here