Writing Your Life's Story
evanstonroundtable.com – Wednesday February 3, 2021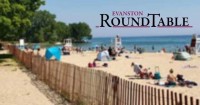 Many years ago a colleague of mine mentioned that his mother had an interesting saying: You should always have more to look forward to than to look back on.
At the time I was in my 50s or even 60s, well past the midpoint of my life. The view out the rear-view mirror was growing ever larger and the road ahead ever diminishing. But there was work, children, volunteer projects – in other words, plenty to keep me busy looking ahead.
Now I'm halfway through my eighth decade and the rear-view mirror is the size of an Imax movie screen and ahead is a TV monitor shrinking by the week.
Yikes.
Still, until incapacitation sets in, I believe that no matter how old, there's always plenty more to gainfully occupy one's time.
At the top of the list should be writing a memoir. There are many reasons why it's important.
To read the full article on evanstonroundtable.com, click here