Women's Prize for Fiction nominee Maggie O'Farrell shares her writing tips
harpersbazaar.com – Friday March 10, 2023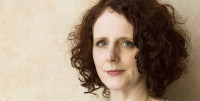 Irish novelist Maggie O'Farrell won the Betty Trask Award for her first novel, 'After You'd Gone'. Her novel 'Hamnet', about the life of William Shakespeare's son, received international acclaim and also won numerous awards, including the 2020 Women's Prize for Fiction. This year, she is longlisted for the same award for her novel, 'The Marriage Portrait'. Here, she shares her advice on writing...
Beginning isn't easy
What I wish someone had told me when I was starting out is this: you don't have to begin at the beginning. Openings are hard. The blizzard-white emptiness of the page, the empty document with the patiently waiting cursor, the idea that you are about to inscribe the first of many thousands of words, the knowledge that you are embarking on a project that will take two or three years. All this can conspire to give you such awful vertigo that it's hard to put down anything, let alone a defining initial sentence.
I have found, again and again, that it's rarely always immediately apparent where in its timeline your narrative should start. It took me a while to work out that a writer doesn't have to begin at the beginning. You can start wherever you like in the story.
To read the full article on harpersbazaar.com, click here