Why I stopped writing
palatinate.org.uk – Wednesday November 28, 2018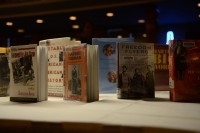 What does it mean to write black?
It means that the style of writing, storyline, the whole plot, characters, the book should be based on the only supposedly important aspect of your life, which is your race. The outcome of this is that many upcoming black novelists find it hard to come forward with their own pieces. Unique writings which do not particularly sit well with what a black book is understood to be, and which eventually causes a lack of uniqueness in writing style and diversity in storylines and plots. Battling the preconceived conception of your non-existent novel is one of the many problems that black authors face in the literary industry.
'It is true that black authors are expected to write what they know- and apparently, in our case, that is ghettos, slavery and racism. You want to write romance, crime, blockbusters or sci-fi? Sorry, people, that's not your thing'- Dreda Say Mitchell.
To read the full article on palatinate.org.uk, click here