This Is What 300 Writers Say Made Them Successful
entrepreneur.com – Sunday March 1, 2020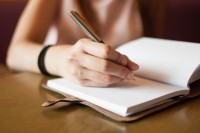 Red Smith, a legendary sportswriter, was once asked if it was hard to write his daily column. "Why no," he said. "You simply sit down at the typewriter, open your veins, and bleed."
Any person who's ever tried to string a bunch of words together and make them sound interesting can feel Smith's pain. Writing is brutal — and writing for a living can feel like you're Jack Nicholson in The Shining typing the same sentence over and over again.
And we all know how that turned out.
On my podcast, Write About Now, I interview writers of all types — novelists, journalists, screenwriters, showrunners, and business gurus — about how they stopped bleeding, started writing, and landed at the top of their profession. I launched the show two years ago and during that time I've done a deep dive into the techniques and tactics of over 300 successful scribes. After a while, I noticed some common themes start to rear their poetic heads. Call them writer hacks, but just not the type that draw blood. Here are six things successful writers do.
To read the full article on entrepreneur.com, click here