Think you can write a book? Here's how to pitch, publish and push your career
nypost.com – Monday April 4, 2022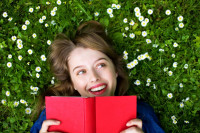 Everyone dreams of being an author. The pandemic has inspired many to start on these long-dormant passion projects. Or maybe just toy around with the idea but not, you know, take any tangible action in getting the proverbial pen to paper.

First, the good news: "If you want to write a book related to your career, this is a clear sign that you are ready to acknowledge your growth and achievement in life," said J. L. Stermer, a literary agent who teaches "How to Get Published" at Gotham Writers Workshop, and is also president of Next Level Lit. "It means you have overcome challenges and found solutions that you are ready to share to help others on similar journeys. Your book establishes you as an expert in your field and can magnetize you to find new clients."
It takes a lot of toil, but penning your own tome can help you get on panels, invited to podcasts and land speaking engagements.

Ahead, expert tips to go from a blank Google Doc to signing the title page.
To read the full article on nypost.com, click here