So You Want to Write?
thecut.com – Wednesday July 22, 2020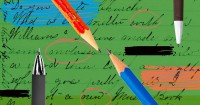 When it comes to making it as a writer, there's no magical shortcut to success: You just have to show up and keep doing the work. But there are some things that might be helpful to know and bits of wisdom to encourage you to keep going. Below, nine writers share what they wish they'd known and the advice they would give fledgling writers.
To read the full article on thecut.com, click here