Self-Publishing or Traditional Publishing: Which Is Best for You?
entrepreneur.com – Sunday November 14, 2021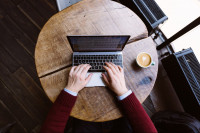 For many people, publishing a book is a lifelong dream or career aspiration. Regardless of any inspiration or intention, it's key for an author to treat publishing a book like a business venture. Like any business venture, one can start it by raising external capital or one can use their own funds. We will dive into the pros and cons of the two main avenues of publishing a book.
There are two primary avenues: self-publishing and traditional publishing. Although they may lead to the same outcome of having a book for sale, self-publishing and traditional publishing are vastly different. The former is when an author assumes complete control over the publishing process and how the book is released to the market. In the latter scenario, a publishing house buys the rights to an author's work and oversees its release.
To read the full article on entrepreneur.com, click here