Roald Dahl once said he would set an 'enormous crocodile' on publishers if they changed his work
uk.style.yahoo.com – Monday February 27, 2023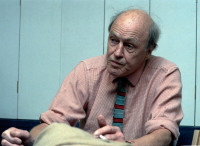 Roald Dahl's comments from 40 years ago about "setting an enormous crocodile" on his publishers if they changed his work have shed light on what the late author would have thought of attempts to censor him.
Dahl was recorded specifically saying that he would be outraged by the idea of censorship after his death, and joked that he would send the title character from his book The Enormous Crocodile to deal with his publishers.
The Daily Telegraph had reported that recent versions of children's favourites by Dahl, who died in 1990, had been changed by publisher Puffin Books, a division of Penguin Random House, to remove descriptions of characters as "fat" and "ugly" in books including Charlie and the Chocolate Factory and Matilda.
To read the full article on uk.style.yahoo.com, click here