Richard Charkin: Dear Literary Agent
publishingperspectives.com – Friday August 12, 2022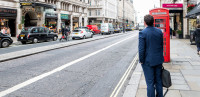 Friends and colleagues, I may sometimes have given the impression that I hold literary agents in lower esteem than they feel they deserve.
Indeed, I've sometimes lumped together all professions with agency in their names as 10-percenters and slightly below the salt. Think of travel agents, estate agents—realtors in the United States sounds better—talent agents, football agents, all of whom seem to cream off money from unwary individuals and add very little.
Indeed, when I was at Oxford University Press, we were once asked by a distinguished literary agent if he could come to Oxford to meet the editors of the various disciplines in order to offer them choice manuscripts by his authors. We agreed on the condition that he paid us £1,000 [US$1,222] for access to our very busy editors, who had plenty of authors without the intercession of a literary agent. He declined.
To read the full article on publishingperspectives.com, click here