Pulitzer winner Anne Tyler on writing from black viewpoint: 'I should be allowed to do it'
nypost.com – Tuesday March 22, 2022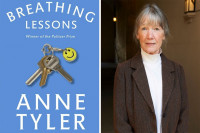 One of America's most acclaimed authors is wading into the culture wars, saying she believes she should be able to create characters from a diverse range of backgrounds.
Anne Tyler, 80, spoke out on the issue in an interview with the Sunday Times, stating, "I'm astonished by the appropriation issue. It would be very foolish for me to write, let's say, a novel from the viewpoint of a black man, but I think I should be allowed to do it."
Tyler — who won the 1989 Pulitzer Prize for fiction for her novel "Breathing Lessons" — also hit out at cancel culture.
"If an incredibly talented person has written novels in the 1930s or '40s and all of a sudden it is discovered that there was something he said or did — even something as bad as sexual harassment — he should be condemned for it but I don't see why you should withdraw his novels from publication," she told the British publication.
To read the full article on nypost.com, click here