Publishizer Is Building An International Virtual Agency
publishersweekly.com – Saturday July 27, 2019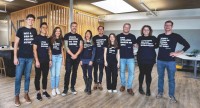 Can a nomadic Australian tech entrepreneur transform literary agenting? Guy Vincent thinks he can. Vincent says that in 2013 he was living in Singapore and working for Tien Wah Press, one of the region's largest printers, when his friend Jackie Treagus asked for help publishing her book—a pocked-size cookbook for adventurers titled The Backpacker Chef. Vincent helped Treagus raise $5,220 through crowdfunding, garnering 522 preorders, and thus Publishizer was born.
Fast forward six years and Publishizer has become, Vincent says, "the world's first crowdfunding literary agency." He is speaking via phone from Amsterdam, where he lives after moving from Singapore to Bali, then Peru and New York City. The company is based in the Netherlands due to a $420,000 investment from Netherlands-based Arches Capital, which built on an earlier $100,000 investment from 500 Startups, a startup accelerator in Silicon Valley.
Initially, Publishizer launched its own crowdfunding platform to fund books that would then be self-published, taking 5% of the money raised as a fee for the service. As the company grew, it began seeing that publishers were interested in acquiring books that had garnered more than 500 preorders on the platform and began placing books with publishers on behalf of authors. Today, Publishizer takes a fee of 30% of the crowdfunding campaign's earnings, but it gets no cut of any ensuing publishing deal, and authors are also free to sign up agents and publishers on their own.
To read the full article on publishersweekly.com, click here