How I got a literary agent - An interview with author, Graham Soloman
firstwriter.com – Sunday April 29, 2012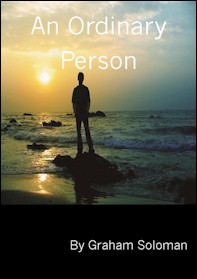 Graham Soloman recently acquired a literary agent using firstwriter.com's database of literary agents. We asked him about his writing, and how he found success.
fw: Thank you for taking the time to talk to us, Graham, and congratulations on having secured an agent for your book.What is your book called, and what is it about?
GS: An Ordinary Person (The Secret life of businessman and Assassin). As the title says it is about a businessmen who leads a double life, one as a respectable businessman and the other as an assassin. He decides to take one last "job", which he does but then meets a new love. Is she going to stand by him when she finds out what he does, or is she a plant? Can the main character, Peter Fletcher, get away with this crime and with this new love or does she betray him?
fw: How did you come up with the story?
GS: The book started out as some of my personal experiences over the years in business. I decided to add a fictional storyline to make it more appealing.

fw: Had you done any writing before?
GS: This is my first attempt at writing and something I have found to be most enjoyable. I have now written the sequel to An Ordinary Person – it is some 85,000 words so far and I should have first draft ready to be proof read in the next few weeks. I also have three more novels in mind to write as well.
fw: How long did it take to write?
GS: I started the book in 2003/2004. It was then put on the back burner due to business commitments. Some two years ago I was asked how I was getting on with it. I told the people that asked that I had put it to one side but they pushed me to finish it off – I did and the result is An Ordinary Person. Once I had finished the book I published it myself as an eBook and paperback – I got some reviews I never expected so I then decided it was time to find a literary agent:
Review 1: When i started reading this book, i literally didn't put it down from the moment i started it. It interfered with my whole day! Everyone needs to read it. brilliant... kept me hooked all the way through, and not many books do that!
Review 2: This is a real page turner This is the best book I have read this year cynical and spellbinding thriller. It is very unique because it is based on a wide knowledge of international affairs The author's professional experience and his tremendous talent as a master storyteller and superb writer make this book one of the best novels I have read in the genre. This is not a simple, easy to read book. Much is left for the reader to puzzle out, at least until the end. A big part of the fun is working out the puzzle, The storyline is not linear, and contains many subplots. Much is left for the reader to puzzle out, at least until the end thoroughly recommended
Review 3: Would make a good film
Review 4: I can see why the reviews were good. This is well-written
Review 5: I enjoyed reading your material; I think you have a fun book here, with the assassination of a world leader, and I was impressed by the book.
fw: How did the search for a literary agent go?
GS: A lot of agents are very picky in what they want to take on but you have to keep plugging away at it. As someone once said to me – you can put 100 people in a room and ask them an opinion of something and you will get 100 different opinions. So to anyone out there who gets refusal after refusal, don't get disheartened keep chipping away at it.

fw: What approach did you take to your search?
GS: I made direct contact with agents and publishers who were taking on the genre my book was about direct by mail, fax and email. It is time consuming but it works. You have to be persistent.

fw: And you found firstwriter.com's database of literary agents to be instrumental in your success?
GS: Yes – without it I would not have got an agent in my view.
fw: How long did you spend searching for an agent before you got one?
GS: I approached hundreds and it has taken me over 18 months to get an agent.

fw: I guess you received plenty of rejections, then?
GS: Yes, there were a lot of rejections: some rather rude in their reply and others very polite. I would get many saying "well written but not for us" and others who just did not answer and some who were just rude in their reply. You have to be thick skinned and take the rejections and not get put off by them.
fw: Which agency signed you?
GS: The McSill Agency in Brazil and the United Kingdom.

fw: What do you think was the reason you succeeded in securing this agent?
GS: They are a new agency and looking for good new material, and as I have Portuguese connections that helped as well.

fw: What's it like having an agent? Is it all high-powered meetings in New York?!
GS: No meetings in New York yet, but it does feel good to be recognised. They are to find a publisher and get my book out in volume to the work market. The book is to be translated into Portuguese and Spanish – apart from English they are in the top 10 languages spoken worldwide.

fw: Do you have any general tips or advice for other writers trying to get an agent?
GS: Yes simple – don't get disheartened by the rejections – keep going.

fw: So what happens now?
GS: The agency will sort the publisher out, plus I have the sequel almost finished and three other books in mind to write.
fw: Thanks again for taking the time to talk to us, Graham, and the best of luck with all your future endeavours!
To search firstwriter.com's database of over 850 literary agents to find an agent for yourself, click here
Recent News