How I got a literary agent - An interview with author James R. Larson
firstwriter.com – Thursday June 30, 2005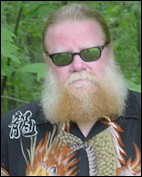 James R. Larson recently acquired an agent using firstwriter.com's database of literary agencies. We asked him about his writing, and how he found success.
fw:Congratulations on securing an agent to represent your book, James. Tell us a little about the book you've placed.
JRL: The title of the novel is Wolfgar. It's a work of fiction, loosely based on the Heimskringla sagas, (the sagas of the Norwegian kings). Wolfgar takes place in the tenth century during the time of the Viking expansion in northern Europe and North America.
fw:Where did you get your inspiration from?
JRL: My inspiration came from various sources. Actually my first inspiration was from a High School English teacher. Miss Novak told me that someday I'd be a writer. Although that was nearly forty years ago, I've never forgotten her words.
Also, being of Scandinavian descent, I've always been interested in stories about the Viking times. My first novel, The Eye of Odin, is an historical fiction about the life and times of Erik the Red.
fw:How did you go about writing it, and how long did it take?
JRL: It took me approximately nine months to write Wolfgar. The first draft manuscript topped out at about 240,000 words. Editing took roughly seven months. The final word edit numbered about 215,000 words, so my ten percent reduction target was pretty close to the mark.
I tried to write a minimum of 2000 words per day. Each day I entered the information on an excel spreadsheet to keep track of dates, word count, and goals. I thought it important to see the daily progress as a spur to keep on track. Some days I couldn't wait to get home from my day job so I could continue writing the story. Other days I had to force myself to sit down at the laptop. I think it's very important to have a place to write that's free of interruption.
I try to write every day. When I miss a day the open spot on the spreadsheet is a glaring reminder that I didn't write that day. A blank spot makes me feel as though I cheated myself. I believe a writer has to be regimented and produce every single day. I've found there's no other way. I did it with my first novel as well as my second and third. All I can say is that it works for me.
fw:You mention having written other novels – what were the others about, and did you try to get them published?
JRL: Wolfgar is my second full-length novel. My first, The Eye of Odin, was vanity published. I chalk up my experience with vanity publishing as a tough lesson and a somewhat bitter reality check. The real world is a much different place. The main issue, I believe, is vanity publishing's complete lack of credibility. After my tunnel vision cleared, I learned what everyone else seemed to know already – that vanity publishers will publish anything submitted to them, and are not considered "real" publishers. Sure, one can purchase packages that include editorial reviewing, copy editing, "how to" help guides in marketing and promotions, and innumerable other services. The key word is purchase. All vanity services come at a price. The prices vary somewhat, and they're expensive. So what's my advice to someone considering a vanity publisher? Don't do it. Instead, grow some very thick skin, get ready for an avalanche of rejection letters, and find an agent.
fw:You describe vanity publishing's lack of credibility. Did you find that a lack of credible publishing history made it harder to secure a literary agent?
JRL: Ibelieve that being previously published is a huge point in an author's favour. In regard to novels I think it means, probably in the majority of cases, that at one time an agent did agree to represent the author's work.
But is it necessary to have been published in order to secure an agent? No, it isn't. In my own experience I was able to sign a contract with an agent despite the fact that I'd never truly been published. The catch-22 says that in order to secure an agent, one must have been published, and in order to find a publisher one must have an agent. It's very difficult.
fw:How did you go about trying to get your book published? Did you start trying to find a literary agent straight away?
JRL: The first thing I did was read. I joined a writer's book club and found a wealth of books pertinent to the subject. When I felt that my book was ready for submission, I realised that finding an agent to represent my work was the only option.
fw:And how did you go about trying to find an agent?
JRL: I bought the latest issue of Writers Market and read the details of every agency listed. I began listing potential agency contacts. I found books on formatting and submitting that describe exactly what agents and publishers want to see, and learned that there are very specific rules. The internet provided a wealth of information. I began sending query letters. If I had questions I'd usually call the agency for information. While researching on the internet I came across firstwriter.com. It proved to be tailor-made tool for what I was trying to accomplish.
fw:What was it about firstwriter.com that made it so effective for you?
JRL: I liked the way the site was laid out. The navigation bar allows searchers to pigeonhole exactly what they're looking for. Clicking on "Literary Agents" and "Advanced Search" takes you to sub menus designed to further narrow down the search by type, area, market, and style. When the various items describing an author's work are selected, a list of agents catering to the chosen particulars is provided. Comprehensive information about individual agencies is given, including addresses, phone numbers, and exactly what the agency expects. The "InstantAlert" feature arranged to provide information to a subscriber's email address keeps one up to date with any additions or changes to the agent databases. I found my agent via an "InstantAlert" email.
fw:When you'd found your list of potential agents, how did you go about approaching them?
JRL: My list numbered 113 agencies to query. firstwriter.com provided most of the contact information I needed. I separated the list by which agencies accepted email queries and which agencies did not. I learned that response to email queries was limited or ignored, so I concentrated on agencies requiring a hard copy query and an SASE. Also, I targeted agencies accepting a chapter or two in addition to the initial query.
I bought various books on the subject. I couldn't believe the number of self-help books available on writing and finding an agent. For the most part, they helped quite a bit.
I wrote my query based on tips from the various books I read. Each query was somewhat different, catered to the particular agent, but they pretty much contained the same information. The book Formatting and Submitting your Manuscript by Cynthia Laufenberg proved to be a big help.
fw:It's interesting that you targeted agencies who don't accept email queries, and personalised each approach. Often writers do exactly the opposite and start off by sending identical emails to all the agencies who have email addresses listed (regardless of whether they accept email queries or not!).
JRL: Yes, I sent out queries, synopses, and sample chapters tailored to agency submission guidelines. Some wanted a query letter only; others agreed to accept the first chapter, the first fifty pages, or perhaps three chapters. They're rather explicit about what they want to see.
fw:That's right – but making inappropriate submissions is still the biggest mistake writers make, often meaning years of fruitless searching for an agent. By carefully conforming to submission guidelines, how long did it take you to find an agent?
I began looking for an agent in the fall of 2003, after I finished my first book. However it was in November of 2004 that I began to search for an agent in earnest. Once I made a serious effort, it took about 4 months. At that point, I had approached 28 agencies. I found an agent in February of 2005.
fw:That's really quick! It really demonstrates the benefits of good research, personalised approaches, and conforming to submission guidelines. Nonetheless, 27 rejection letters is enough to wear anyone down. How did you deal with this?
JRL: In the beginning when the SASE's arrived in the mail, I opened them with confidence and high hopes. As time went on, I opened them with dread. A few were courteous and polite, even helpful. Most were very impersonal. Many send form letter rejections. When you've devoted time, energy, and creativity to a project, it's a humbling experience, and a bleak reality, to have your work rejected out of hand. One agent said that she liked my writing, and not to despair, and remember that each "no" brings you that much closer to a "yes." I took that advice to heart.
fw:Which agency signed you?
JRL: On February 25, 2005, owner and agent Terry Dubbs of the Running Water Literary Agency in Topeka, Kansas, signed me to a one-year contract.
fw:What do you think was the reason you succeeded in securing this agent?
JRL: I think Mrs Dubbs accepted me as a client because of the book, and the style in which it is written. I believe her agency is interested in the genre and subject matter. I think we are a good match because of Terry's professionalism, support, and drive. It's a blessing, and a validation, to have someone working with you who is as enthusiastic and supportive of your work as you are yourself.
fw:Securing an agent is a dream for a lot of writers. How do things change once you've got one on board?
JRL: It's great to have an agent. Writers can expect encouragement, support, and help from one who is savvy to the business. Although I believe promoting the work is a major responsibility of the writer, it's nice to be able to concentrate more on the writing end. It's great to have someone in your corner.
Terry recently finished the editing and synopsis projects for my book, and has sent first round queries to 26 publishing houses. So far one publisher has shown interest. At the present time Terry is in the process of creating a marketing plan to send with the complete manuscript.
fw:What advice would you have for writers trying to get an agent?
JRL: Devote time to your writing. Set aside the same amount of time each day if possible. Read books on the subject. I think in order to be a novelist, which for me is an evolving, learning experience, one must put in many years of hard work and study. There's no other way.
fw:What next? Do you have any more books in the pipeline? Where are you taking your writing now?
JRL: Last week I completed the first draft of my third novel. Now the editing process begins. It will be months before the book is presentable to the agent, so I have my work cut out for me. In the meantime I've started my fourth novel. I have plans for a fifth and a sixth book. My goal is to write one novel each year. I have a regular full time job so I have to juggle time when I can. But I'll continue my writing – It's just something I love to do.
fw:Thank you for taking the time to talk to us, James. I'm sure your experience and tips will prove useful to other writers. Good luck with your new novel and all you other endeavours.
To search firstwriter.com's database of over 600 literary agencies yourself, click here