NaNoWriMo: how to make best use of the annual writing month
theguardian.com – Monday November 2, 2020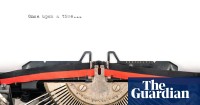 If everyone has a book in them, then November is the month that many of those books are conceived. NaNoWriMo, or National Novel Writing Month, comes of age this year with its 21st birthday, and the concept remains as simple as it was in 1999: over 30 days, write at least 50,000 words of your novel.
Almost 368,000 novels have been completed by participants. There are no prizes or league tables, just the satisfaction of taking part – and the potential creation of something publishable.
There remains some sniffiness over NaNoWriMo in some quarters, usually published novelists who like to point out that some people write all year round. Half the world wants to write, it seems, and that means they think they can. Yes, writing a novel is hard work. And for every author that gets published, hundreds – possibly thousands – fail. But does that mean that we shouldn't write novels just for sheer enjoyment?
To read the full article on theguardian.com, click here