Murder mystery author Jane Harper has six tips for writing a bestselling novel
abc.net.au – Sunday June 3, 2018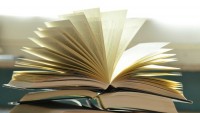 In 2014, Jane Harper decided she was finally going to do it — she was going to write a book.
She enrolled in an online writing course, and in just twelve weeks had completed her first draft of The Dry.
The fast paced, hard-edged crime novel was the kind novel Harper had always wanted to write.
"I like books with a bit of mystery and suspense," the former journalist says.
It was an instant hit. Critics loved The Dry for its elegant structure, Australian voice, and Harper's ability to vividly paint a landscape in the grip of drought.
Readers loved it for its tight pace, its awkward, lovable hero and its satisfying "whodunnit" reveal.
The book raced on to bestseller lists around the world, won multiple awards, and was sold in to more than 20 foreign language territories.
Today, Harper is still riding high on the success of The Dry.
The movie rights have been sold to Reece Witherspoon's production company, and the script is complete. Harper's second book, Force of Nature, has been another bestseller, and she has another on its way.
So, how does she do it?
While at the Sydney Writers' Festival, Harper revealed the secrets to writing a bestselling novel. Writers, grab your pencils...
To read the full article on abc.net.au, click here