Murder Books 101: The Rise of True Crime, From Highbrow to Cash Cow
tor.com – Saturday August 14, 2021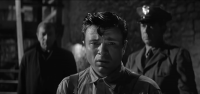 Conventional wisdom claims that true crime writing wallowed in the gutter, dirty and disreputable, until Truman Capote lifted it out of its own filth and washed it clean with the sweat of his literary gift. Earlier efforts are dismissed as crude attempts at what Capote would accomplish with grace and skill. Those were the rough drafts, but Capote's 1966 In Cold Blood is the masterpiece.
The fact is, the financial triumph of Capote's In Cold Blood (and the film version the following year) had as much to do with literary achievement as the fact that Capote was a white man who belonged to the right clubs and subscribed to the right magazines. His achievement transformed the marketplace, making true crime respectable in the same way that Maus and Watchmen turned comic books into "graphic novels" in 1986. Capote's book allowed people to camouflage their morbid fascination with murder and mayhem beneath the seal of literature. In the old days, ministers gave their blessing to true crime to make it acceptable. Now, it was The New Yorker.
In Cold Blood changed how true crime was read, not how it was written. Most of what Capote did, other writers were already doing.
To read the full article on tor.com, click here