I've Always Wanted To Publish a Novel—Here's How I Finally Did It
theeverygirl.com – Thursday March 10, 2022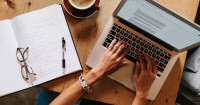 I spent the majority of my 20s doing what I think a lot of young professionals do: I woke up early, went to work every morning, and dutifully put in nine hours at my cubicle—then, every evening, I came home, cooked dinner, and tried to relax while facing a crushing sense of dread at the thought of doing that again, every single day, for the rest of my life.
Alright, that feels dramatic—but it's how I felt, and I'm willing to bet that's how some of you feel, too. I tried to find meaning in my work by switching industries (several times), investing in professional development, and writing freelance for various magazines, but at the end of the day, I was never satisfied, and I knew why. It was because I knew what I wanted to be doing with my life and I hadn't yet figured out how to do it.
I wanted to be an author.
To read the full article on theeverygirl.com, click here