How to Write a Novel, According to 10 Really Good Novelists
esquire.com – Saturday February 6, 2021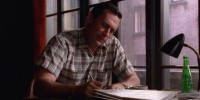 A long, long time ago, back in the first lockdown, you probably told yourself that now – right this moment, in the middle of a pandemic – was the perfect time to conceive, plot, write, revise, rewrite, complete and publish a novel which completely transformed what we thought it was possible to express in the English language.
It wasn't. Obviously it wasn't. You know that now. But even if it turned out a year-long period of isolation and anxiety actually wasn't much good for your inner David Foster Wallace, there's no bad time to start writing. It doesn't really matter if it goes anywhere. Just write something and see where you go.
To help you along, we asked 10 established and emerging writers for the rules of thumb they use to find ideas, to get words onto the page, and to turn an interesting first draft into something more substantial.
To read the full article on esquire.com, click here