How do you write a novel? A draft in time saves nine
irishtimes.com – Thursday November 14, 2019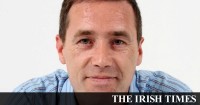 I'm often asked about the best way to write a novel's first draft, and thank God for that, for otherwise I'd have no social life at all.
For some reason it generally seems to happen when I discover myself at the bottom of Dawson Street around lunchtime, waiting to cross over to the Trinity side.
"I say, Mr Burke!" bawls some aspiring scribe who, having recently perambulated around from College Green, has mistaken me for that prime hunk of literary boulevardier, Edmund Burke. "How does one go about writing a novel-length story?"
"Well," I bawl back, which usually precipitates something of a conversational longueur, it being my accoster's expectation that I have deployed same as a precursor to embarking on lengthy disquisition, whereas my advice in the matter of writing novel-length stories is as brief as it is simple, ie, that if they must be written at all, then they really ought to be written well.
To read the full article on irishtimes.com, click here