How Lindsey Duga became successful young adult novelist
225batonrouge.com – Sunday September 5, 2021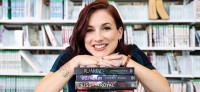 Typing intently on her laptop at Magpie Cafe, Lindsey Duga looks like any other young professional getting an early morning start. But what she's up to isn't sending emails or prepping for meetings. She's working on her next novel.
By day, Duga is the director of accounts at the web development firm Gatorworks. But after hours (and before), she's a successful fiction writer with five published young adult novels—and more in the pipeline.
Duga, 31, says her writing passion took root in middle school.
To read the full article on 225batonrouge.com, click here