How I got a literary agent - An interview with author Frank Hotchkiss
firstwriter.com – Sunday January 28, 2007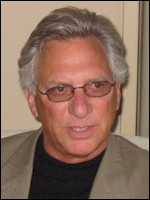 Frank Hotchkiss recently acquired an agent using firstwriter.com's database of literary agencies. We asked him about his writing, and how he found success.
fwn: Thanks for taking the time to talk to us, Frank, and congratulations on placing your book with an agent. What is your book called, and what is it about?
FH: My book is called One Fine Day, and it is about a quadruple amputee fed up with his life as a near-vegetable, but who has, to his surprise, one terrific day that changes his mind and his life.
fwn: Where did you get your idea from?
FH: I got the idea out of my head. I wanted to show that it is possible, even in the worst circumstances, to be happy.
fwn: How long did you spend writing it?
FH: It took about a year to write it. I write slowly – 4–5 pages a day, and I don't push it. I follow the characters' inclinations and let the action and plot evolve from them. After I finish, I go back and put on other layers, perhaps even adding a character or two and a plot point, like a painter putting on additional layers of paint.
fwn: Is this the first time you've written a book?
FH: This is my third book.
fwn: So you've been writing for a long time, then?
FH: I have made my living in one way or another writing for a long time, first as a journalist, then as a public relations executive. I also had a column for the Los Angeles Times Syndicate called America on the Road, about car-related subjects (not necessarily cars themselves). I have had short stories/articles published in newspapers and magazines (Trailer Life, Des Moines Register, Los Angeles Times, some defunct computer magazine (can't recall the title)).
fwn: Do you think your previous publishing record helped when you were trying to find an agent?
FH: I can't say if it is important that one has published before. I suspect it isn't. Agents don't seem to give a damn. You almost wonder if they even read what you send them. I must have solicited 300 agents before finding one who liked my book and who I thought might do a good job representing me.
fwn: How did you go about trying to get your book published? Did you start trying to find a literary agent straight away?
FH: Yes, I started looking for an agent for this book first. I had an agent for my previous books (unfortunately she never got them published, but she did try), but she hated my latest book, so we parted ways.
fwn: How did you go about trying to find an agent?
FH: For the most part, I looked in Editor and Publisher, then went on-line, but finding your site made life a lot easier. Many thanks, once again. The fact that you identify which agents take online submissions, which don't, and which handle fiction (my field) was immensely helpful. Also, the individual writers' comments are an excellent feature, as
you can foretell which agent is going to be a jerk. I have run into some real jerks, believe me, with absolutely no taste but oodles of arrogance. None of these were on your site, or I would have lambasted them, I promise.
fwn: And which agency signed you?
FH: Bennett-West and I signed. They are personable and are doing a good job to date.
fwn: Do you have any general tips or advice for other writers?
FH: Believe in yourself, write as well as you can, and enjoy the process. Even if no one else ever reads your book, you should get great satisfaction from the writing. On occasion, I was reduced to tears by my characters. What a privilege!
fwn: Thanks very much for your time, Frank, and best of luck with getting the book published!
To search firstwriter.com's database of over 700 literary agencies yourself, click here