Faber & Faber: The Untold Story – What do publishers actually do all day?
irishtimes.com – Saturday May 25, 2019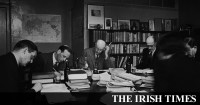 On my first visit to the offices of Penguin Books in 1990 I remember overhearing the receptionist busily answering phone calls with the greetings, "Hello Penguin", "Hello Bodley Head", "Hello Viking", "Hello Michael Joseph", "Hello Hamish Hamilton".
It was a roll call of publishing houses swallowed up by a conglomerate that was later swallowed by another conglomerate. This is no criticism of Penguin who adapted to economic circumstances to continue to publish excellent books. Publishers have survived through amalgamations for decades, resulting in a diminishing pool of gatekeepers for new authors to get past.
To read the full article on irishtimes.com, click here