AI Writing Assistants: A Cure for Writer's Block or Modern-Day Clippy?
uk.pcmag.com – Tuesday September 20, 2022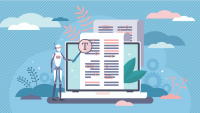 In recent years, I've watched AI weave its way into our daily lives. It's written and directed movies, acted as a therapist, and visualized alternate realities. But I was curious to learn if AI is now smart enough to be an "intelligent writing assistant."
It's not too far off. As Microsoft points out in its Future of Work report, "AI is good at learning and scaling patterns, meaning for these activities people can instead focus on doing things in new ways and generating novel ideas. For example, someone might write a document by merely listing the ideas it should include. The details can be fleshed out automatically, much like developers use Copilot to flesh out ideas through code."
But how realistic is that for the average would-be writer? We tried Jasper, Rytr, and HyperWrite to see if artificial intelligence can give our writing an edge.
To read the full article on uk.pcmag.com, click here