5 Tips For Writing Interesting Characters
thenerddaily.com – Sunday February 16, 2020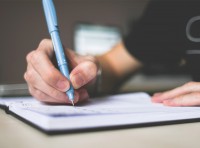 There is an abundance of writing advice articles out there that you can get from social media or the internet, all with different tips and suggestions to help you on your writing journey. For me, I think these five tips can help you plan out and write a character well, even if you don't actually write them until later.
1. Don't presume that you know everything about your character.
People automatically assume that you should know every single thing about your character, because it makes sense, since you're the writer and you'll need to expand on them throughout your story. What people don't know is that your character is allowed to keep their secrets, especially since they will develop throughout the series, naturally.
Maybe your character has a fear of rejection… Their backstory may be planned by you, but there may be quirks to their character which can lead you to a totally different backstory later, told by your character and told to you as well.
To read the full article on thenerddaily.com, click here