30 Words Of Wisdom From Writers, To Inspire You Through The Rest Of NaNoWriMo
bustle.com – Tuesday November 13, 2018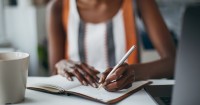 If you're one of the many writers trying your hand at NaNoWriMo this year, (that's National Novel Writing Month, for the uninitiated) then you well know we're approximately half way through the month of November — and hopefully, you're well on your way to completing your goal of 50,000 words. As a repeated NaNoWriMo hopeful myself, I know what a complete drag that halfway point can be: by this time the adrenaline of starting SOMETHING BIG (aka: your novel) has worn off, your caffeine tolerance has skyrocketed, and your non-writer friends have gone from vaguely supportive to disbelief that you're actually staying in to write all weekend AGAIN. Maybe you're a little behind on your word count, or on sleep, or — most likely — both, and the end of November seems both too soon and impossibly far away.
From one writer to another, let me tell you: this is hardly atypical. Whether you're attempting to write your novel in one frantic NaNoWriMo burst or you've been drafting it for years, I'd venture to guess that most writers suffer from creative fatigue (and, you know, finger cramps) in the middle of any project — no matter how ambitious. And lucky for you, not only have many of these successful writers lived to tell about it, they've offered plenty of words of wisdom for their fellow aspiring novelists.
Below you'll find some inspiring words of wisdom — and great writing advice — from writers, designed to power you through the rest of your NaNoWriMo.
To read the full article on bustle.com, click here