Éilís Ní Dhuibhne: The writer as an older human being
rte.ie – Friday December 4, 2020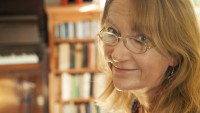 I am a short story writer. I write in many other genres - novels, children's books, plays, non-fiction - but my favourite literary form is the short story. Why? I think it is partly a lazy reason. When I started writing, and publishing, way back in the 1970s, short stories were what I wrote. And although I moved on to novels in due course, I became more and more interested in finding ways to create short stories. I like writing them because they can be written quickly - the first draft can be scribbled down within a day or two. Even if the rewriting takes weeks, the heart of the story is pinned down fast.
That means I can catch the idea, the mood, the feel, of whatever inspiration is concerned and preserve it, before it flies away. A character in an Alice Munro story, Family Furnishings, compares writing to grabbing something out of the air. It's like that with a short story. It's like catching a leaf as it falls from a tree, putting it between the pages of a book, then examining it, reading it, finding out what it has to tell you. That may be a lot more than you thought when it came floating down, red or gold or russet, in the autumn air. But no matter how much you develop it, it will still be that leaf that you caught at a certain moment in time.
A novel is quite different.
To read the full article on rte.ie, click here