So you want to write a book? Part 2: Agents, queries and timelines
niemanstoryboard.org – Thursday February 24, 2022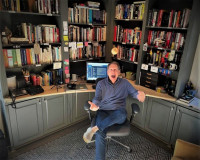 You've written that gripping long-form story, and you're champing at the bit to get a book deal. What do you do?
My own journey started with a lot of wrong turns and even more learning, which I wrote about in Part I of this mini-series. But it finally got my first book, "The Spy's Son," onto bookshelves. It tells the true story of the highest-ranking CIA officer ever convicted of espionage, and how he recruited his son to follow in his spy steps.
Contracts for other books followed. And later this year, "The Spy's Son" is coming out as a TV-and-streaming docuseries.
Here is my go-to advice about the four essential things you need to do, and how to build a timeline to support that work.
To read the full article on niemanstoryboard.org, click here