So you want to write a book? Part 1: Have a strong story and resilient ego
niemanstoryboard.org – Wednesday February 23, 2022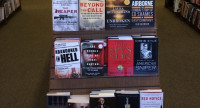 ll the great writers have proffered wisdom on the craft, the best-in-show quote being Norman Mailer's: "Writing books is the closest men come to childbearing." But the literary sages have offered scarce advice to serious long-form journalists on plotting, writing and, most importantly, selling a nonfiction book
So for now, you're stuck with moi.
Look, m'friends, if a lunch-bucket journalist like me can do it, so can you. All you need is endurance (maximized by a 14-cup coffee maker), great story organization skills, a boatload of time (and the tolerant family that comes with it), the power to shrug off rejections and monophobia, the guidance of a good literary agent, and a smidgen or two of pure damned luck.
Here are six things to consider as you begin your quest to write a nonfiction book.
To read the full article on niemanstoryboard.org, click here