It's Time To Save Literature From The Woke Publishing Industry
thefederalist.com – Tuesday October 25, 2022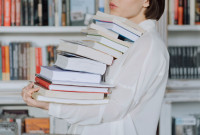 Joyce Carol Oates is a fixture in American letters — she's won the National Book Award, two O. Henry Awards, the National Humanities Medal, the Jerusalem Prize, and she's been nominated for the Pulitzer five times. She taught at Princeton for 36 years, and is, of course, an outspoken Trump critic. A Google search for "Joyce Carol Oates" and "feminist" yields more than half a million results.
And even she thinks the publishing industry has become intolerably politically correct. On Twitter, she recently observed, the "category of straight white males is the only category remaining for villains & awful people in fiction & film & popular culture." Oates isn't alone in observing the problem — in June, ubiquitous author James Patterson, whose potboilers have sold more than 400 million copies, said white male writers now face "another form of racism" in the woke publishing industry, before he was bullied into backtracking on his comments.
Of course, if you've set foot in a large bookstore recently, what Patterson is saying has obvious merit. On a recent trip to Barnes & Noble, a friend actually took photos and counted up the books on the six new fiction shelves displayed up front. Male authors made up less than 25 percent of the nearly 200 books displayed in the front of the store, and obviously, the percentage of men who were white and/or heterosexual was notably smaller than that.
Oates and Patterson are only now saying what many men with literary ambitions have long known. Iowa Writers Workshop graduate Alex Perez recently gave a scorched-earth interview to the Hobart Literary Journal where he discussed how male-centric literature was being deliberately shut out of publishing. During the interview, he had some choice words for the woke and disproportionately female gatekeepers of the industry:
To read the full article on thefederalist.com, click here