The Hollywood writers' strike is over — and they won big
vox.com – Thursday September 28, 2023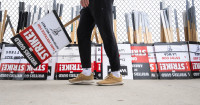 Hollywood's longest and most costly labor strike has ended.
Late in the day on Sunday, September 24 — after 146 days of labor stoppage, the longest strike in Hollywood history by a long shot — the Writers Guild of America (WGA), which represents Hollywood's writers, and the Alliance of Motion Picture and Television Producers (AMPTP), an association of Hollywood's largest studios and production companies, announced that an agreement had been reached. On Tuesday, September 26, the union's leadership announced that they'd voted to end the strike and recommended the membership vote in favor of ratifying the contract.
The strike officially ended in the wee hours of Wednesday, September 27, and the union's membership will begin their vote on Monday, October 2. For many, this moment is one for celebration. President Joe Biden, who is set to join striking auto workers on their picket line on Tuesday, issued a statement applauding the writers' tentative deal. "There simply is no substitute for employers and employees coming together to negotiate in good faith toward an agreement that makes a business stronger and secures the pay, benefits, and dignity that workers deserve," he said.
To read the full article on vox.com, click here