A bestselling author reveals his 3 techniques to overcome writer's block
cnbc.com – Thursday August 23, 2018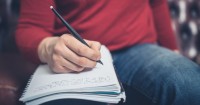 Experiencing writer's block can be both frightening and frustrating for anybody working on a project with a deadline fast approaching.
Unfortunately, this inability to produce content within a specified period of time can strike at any moment.
And bestselling Hay House author Charlie Morley is no stranger to this common setback.
To read the full article on cnbc.com, click here